We sell a number of travel towels including 'softfibre' and 'microfibre' options and with so many options available, how can you possibly know which one is right for you? I decided that this week, I would review Lifeventure's softfibre & microfibre towels and talk through the key features to help you make a more informed decision, weighing up the pro's and con's of each style as I go.
Microfibre & Softfibre: What's the difference?
Lifeventure have several styles of towel available with the main two being the Softfibre and Microfibre options. The main difference between the two is their texture, the softfibre towel feels more velvety and smooth compared to the more bobbly feel of the microfiber towel, that more closely mimics the texture of a towel you'd use at home. I feel that a lot of other manufacturers have probably missed a trick here, as they all tend to go with the smoother textured towels and don't offer a 'towel-feel' alternative for those who aren't fans of the smooth textured ones. Trespass do a microfibre option, but this doesn't have any antibacterial protection.
Key Features
Storage Case
Both of these towels come in three different sizes, Large, X Large and Giant, each supplied with it's own storage case. The storage case has a small mesh panel across the front, which is designed to help dry your towel and keep it well ventilated while it's packed away. I was a little sceptical of this feature on older models as the mesh didn't seem particularly strong, so would probably be prone to snagging, however the new design seems to have stronger mesh material that should cope well during outdoor activities and when travelling.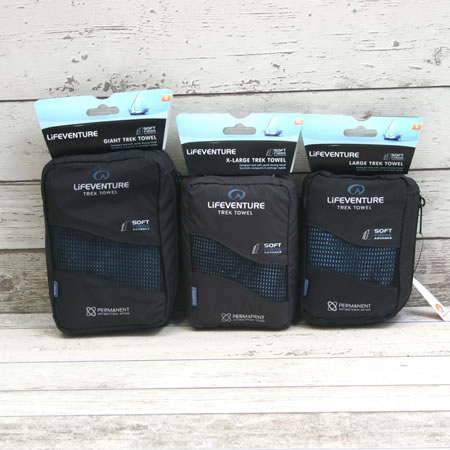 The material of the storage case is a lightweight, ripstop material and after playing around with the case by stretching and pulling it in all directions, I can safely say I am confident that it is of a good quality. My one negative on the storage cases is that once you get to the giant size the case isn't particularly compact, the pack size of the giant towel is around 19cm x 15cm x 8cm. I personally, would want something a little smaller, and feel that the XL size would be more than sufficient and is much more compact at 14cm x 11cm x 6cm in size. To put the sizes into perspective, I have taken some pictures of each size in my hand.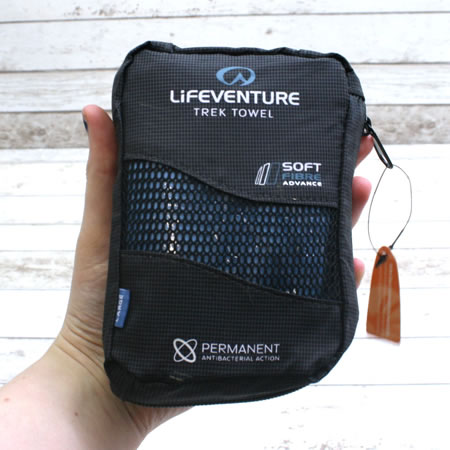 As you can see, the large and XL sizes are not much different in size but the giant is considerably larger. The storage cases on both the Microfibre and Softfibre towels are attractive and of a good quality, made from a lightweight ripstop material to prevent any snags from spreading.
Materials
Although these towels come in different materials, they have the similar properties and are both quick drying and highly absorbent. However, in terms of statistics, the Softfibre is proven to be more absorbent compared to the Microfibre model, absorbing up to 9 times it's weight in water and drying 8 times quicker compared to normal towels. The Microfibre option still performs well compared to towels from home, but absorbs only 7 times it's own weight in water and dries 6 times quicker compared to normal towels.
Another handy feature of these towels is their permanent anti-bacterial treatment, which helps to stop the towels from smelling when they become damp or haven't dried properly. It's also designed to prevent mould from growing on your towel in hot conditions. The permanent anti-bacterial treatment is unique to Lifeventure's SoftFibre and Microfibre towels and is designed to last for the life of the towel. Lifeventure's expedition towels also benefit from the permanent anti-bacterial treatment.
If you don't have ages to hang around waiting for your towel to dry, the softfibre option would probably be your best bet as it dries a little quicker than it's microfibre alternative, which proves that you can't always have the best performance and comfort at the same time. The microfibre towel is also less absorbent compared to the softfibre towel and weighs a little more. Don't get me wrong, both styles are still really lightweight, quick drying and absorbent, but if you were to ask me which is the better performing towel, I'd probably have to say the softfibre.
Appearance
In terms of appearance, the microfibre towel is pretty dull in colour and design with a beige coloured carry case and biege coloured towel. However, I can see why they might choose a darker colour like brown for their towels, you'll find that lighter colours show dirt much easier. The softfibre towel comes in blue and has a more stylish appearance all in all, but it's light blue colour would show dirt a lot quicker than the brown microfibre option. The softfibre towel also comes in a pink option, which is great if you want something a little more feminine and attractive in colour. They have also launched some printed giant towels for 2014, which give a more colourful option if appearance is important to you.
Specifications
| | | |
| --- | --- | --- |
| Features | Microfibre Towel | Softfibre Towel |
| Absorbency | 7 x own weight in water | 9 x own weight in water |
| Drying Time | 6 x quicker than standard towel | 8 x quicker than standard towel |
| Available Sizes | Large, X Large & Giant | Large, X Large & Giant |
| Texture | 'towel-feel' fabric | Smooth, soft feel fabric |
| Antibacterial Protection | Yes – permanent | Yes – permanent |
Summary
For me, performance usually outweighs comfort and the softfibre towel is slightly more absorbent and quick drying compared to the microfibre option. I do prefer the texture of the microfibre towel and this also has the darker brown colour, which would show dirt less than the blue or pink softfibre towels.
In terms of pricing, the softfibre towels currently retail at around £19.99 to £27.99 and the Microfibre towels are roughly £19.99 to £29.99 in price, I think these prices are a little steep for travellers on a budget. You could opt for another anti-bacterial towel such as the Trespass Bath Size Travel Towel and spend half the amount you'd spend on one of the Lifeventure options. The Lifeventure microfibre towel does offer something that the other manufacturers don't, as it has the 'towel-feel' fabric and permanent anti-bacterial protection. In terms of the softfibre option, the only real benefit that sets it apart from other towels is the permanent anti-bacterial protection.