A leading brand in the travel pack world since the 1980's, Eagle Creek know their stuff when it comes to creating quality backpacks with useful travel-related features. Their new Global Companion 65 backpack is no exception, combining the structure and technical features of a backpack with the organisational features of a suitcase, resulting in a great piece of hybrid luggage for adventure travel.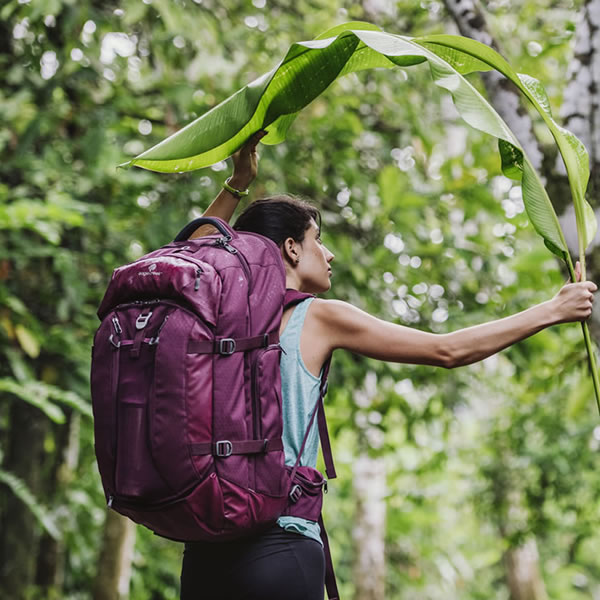 First Impressions
The Eagle Creek Global Companion 65 comes with a 65 litre capacity and is available in a unisex or female fit. The bag also comes in a choice of colours, with black, concord (purple – my personal favourite!) or blue for the female fit and black or blue for the unisex model. If you're going on a shorter trip or prefer to travel with carry-on only, you may want to opt for the smaller 40 litre version, which offers similar features to its larger counterpart.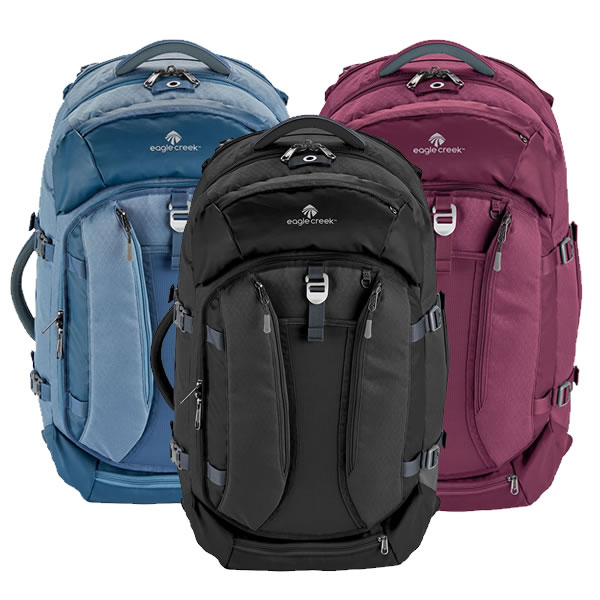 Unlike most travel backpacks, the Global Companion doesn't include a detachable daypack for daily use when travelling. In lieu of the daypack, Eagle Creek have given their Global Companion pack a selection of external organisation pockets, which can be used for storing anything from water bottles to guide books and jackets. At first glance, this looks like a stylish and robust pack, which is more than capable of withstanding a round the world trip (and some rough handling from airport baggage handlers along the way!).
Price
As mentioned previously in this review, Eagle Creek are a premium travel pack brand, and as such their luggage tends to be on the pricey side. With an RRP of £230.00*, this is by no means a cheap backpack. In terms of the rest of our travel backpack range, the Global Companion carries a similar price tag to backpacks from German brand Deuter, another high quality brand. If you're planning a one-off trip, the Global Companion possibly isn't for you, but if you plan on taking more backpacking trips in the future, this is a great investment.
The fact that the Global Companion doesn't come with a daypack means that you'll have to buy a smaller day bag separately (unless you already have one), which could add a further £10-30 to your costs. However, the backpack does include a 2in1 flight and rain cover, which would normally set you back a further £36* if bought separately.
Construction
The Global Companion is constructed from 450D Geo-Ripstop fabric, which is used on the main body of the backpack. The base of the bag and top pocket use a Bi-Tech fabric, which is designed to provide abrasion and water-resistance. All in all, the Global Companion looks and feels robust and the fabrics look unlikely to fail, even when the bag is used extensively in a range of conditions. The zips are of a high quality and benefit from a self-repairing design, as well as lockable housings, which will fit pretty much any padlock.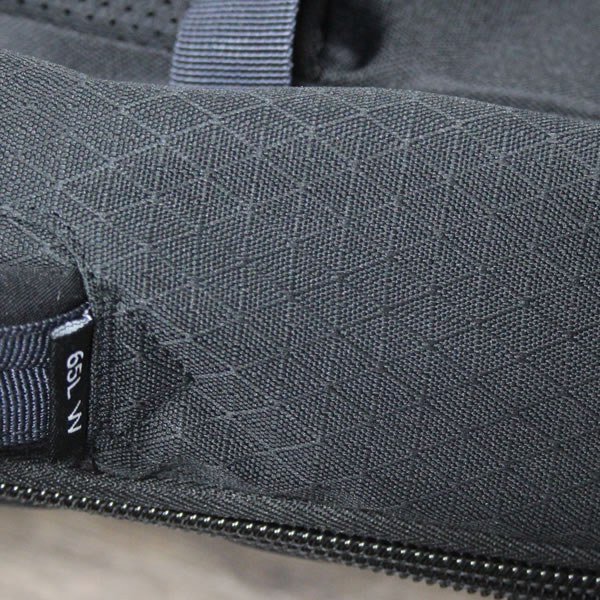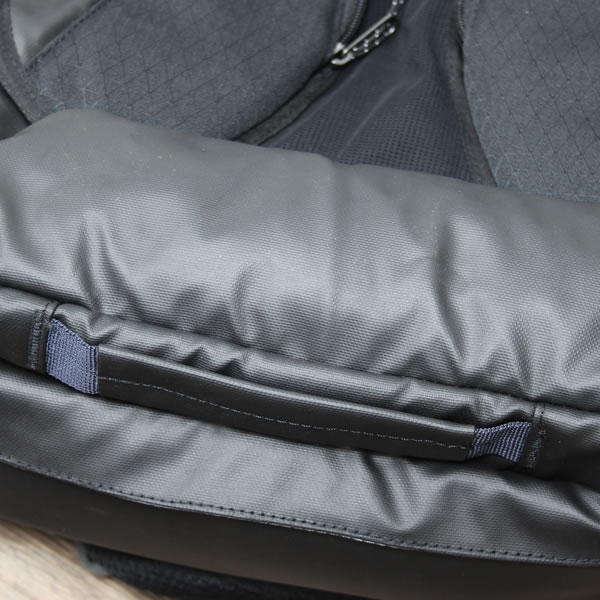 The Technical Bit – Global Companion 65 Specifications
Dimensions: 66 x 35 x 31cm
Capacity: 65 litres
Weight: 2.33kg
Materials: 450D Geo Ripstop, Bi-Tech & 600D Helix Poly
Back Length: 38-51cm – womens / 40-53cm – unisex
Comfort Features
The Eagle Creek Global Companion has an adjustable back system, which allows you to adjust the back panel to your required back length. The adjustment on the back panel has to be one of the easiest adjustments I've come across on a travel backpack, all you have to do is open the two flaps then slide the back panel up or down to the height you require. The women's model is suitable for back lengths of 38-51cm and the unisex model is suitable for back lengths of 40-53cm.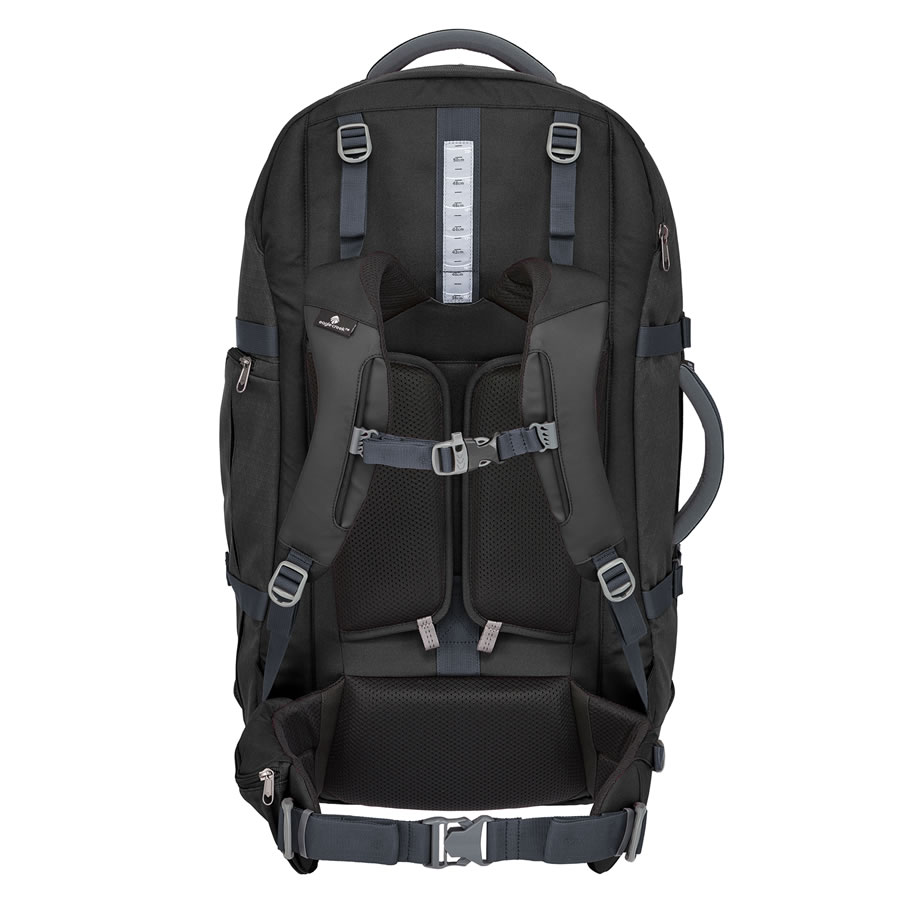 If you're not quite sure which model would be best for you, you can measure your back length by locating your C7 vertebrae (the bony bump at the base of your neck) and the top of your hip bones (Iliac crest), then measure the length between the two to get your back length. Fitting instructions are also included with the Global Companion, so you don't have to worry about getting the fit right.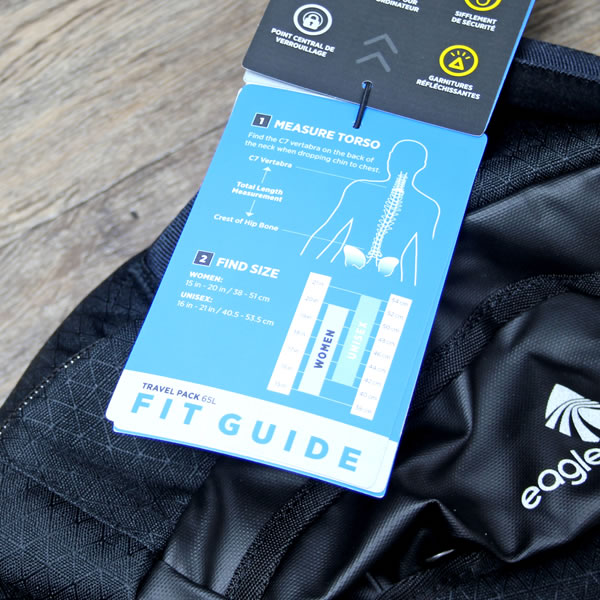 The back panel, shoulder straps and hip belt are also padded with a moisture-wicking mesh, which will help to keep you comfortable, even when you're carrying the bag in warmer climates. While the hip belt is padded, it could possibly use a little more reinforcement, especially since this is a 65 litre backpack and the hip belt is responsible for carrying the main weight of your luggage. Eagle Creek have also included an adjustable sternum strap and load stabiliser straps to help stabilise and balance the load.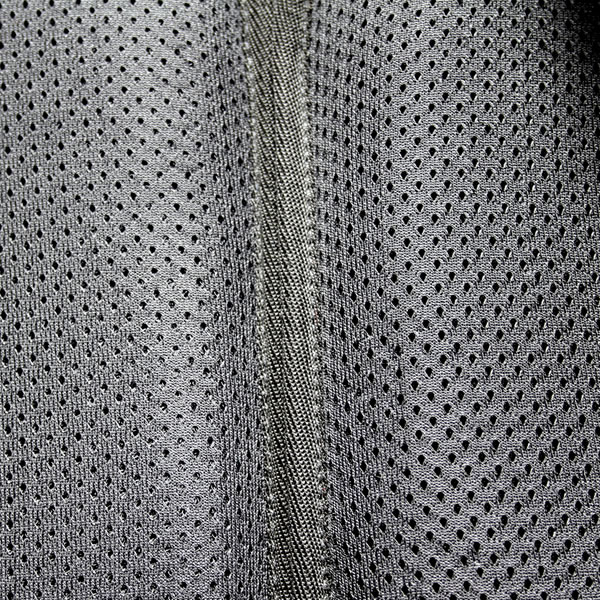 Backpack Features
Eagle Creek designed the Global Companion specifically to meet the needs of travellers, with a focus on comfort and organisation. This is a well-thought-out backpack with a book style opening that allows you to pack it like a suitcase.While many travel backpacks have a suitcase-style opening, the Global Companion also benefits from split mesh packing compartments, similar to what you find in a traditional suitcase, so you can truly pack it like a suitcase! The backpack also comes with a zippered front panel, which opens for access to one of the internal mesh packing compartments.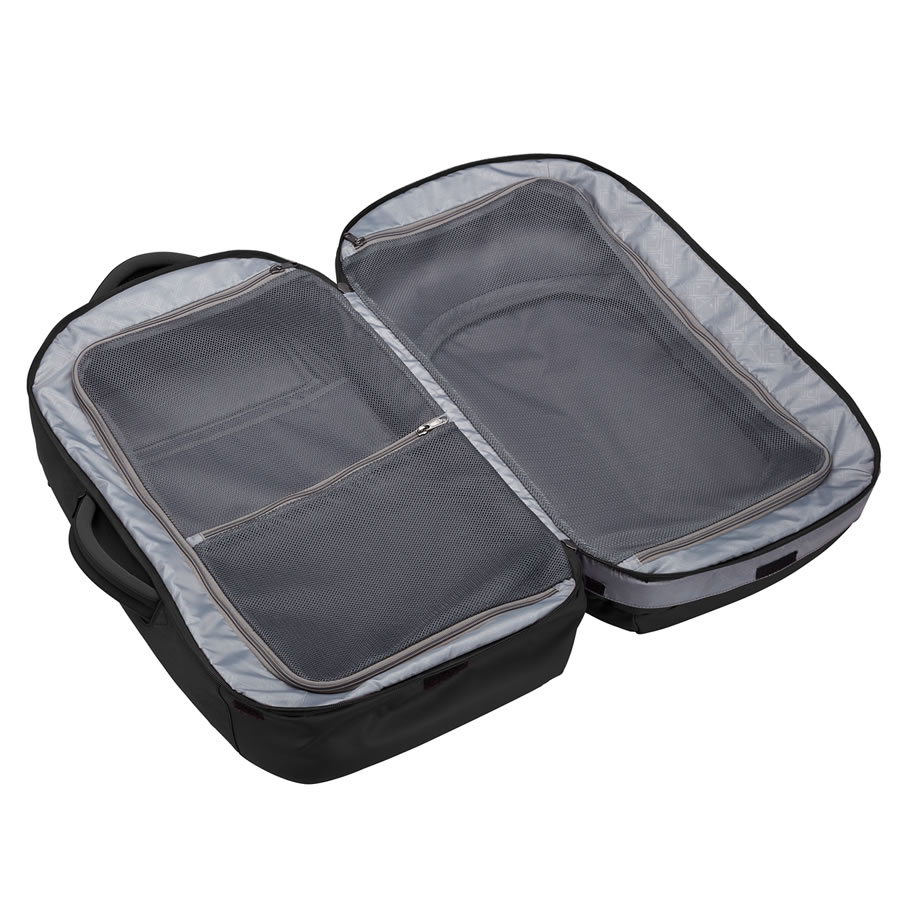 The Global Companion 65 features two split mesh packing compartments, one of which comes with a smaller external mesh pocket for storing accessories or dirty laundry. The internal compartments lack compression straps, which are designed to stabilise and compress the contents of the backpack, however you can easily use a set of packing cubes to maximise your packing space and keep everything neat inside your bag.
The second mesh packing compartment includes a 17″ padded laptop sleeve, but I'm a bit on the fence about this feature as the backpack would need to be checked in, so I'm really not sure how many travellers would have use for this feature, as they would more than likely want to keep their laptop or tablet in their carry-on luggage. However, the laptop sleeve certainly makes sense for the smaller 40 litre model. The laptop sleeve can be accessed through the main opening or you can access it through a lockable zip opening at the back of the bag.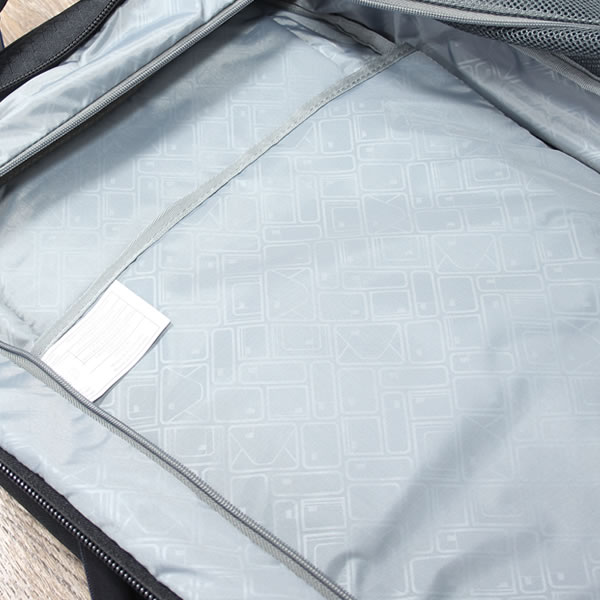 The Global Companion comes with lockable, self-repairing zips and features a central locking point, allowing you to lock the bag in one central point using one padlock.
As mentioned earlier, the Global Companion doesn't include a daypack, but comes with a selection of external organiser pockets including: 2 x zippered pockets for water bottles, large stretch front pocket and a small zippered top pocket. These are great for storing items and accessories you need quick and easy access to.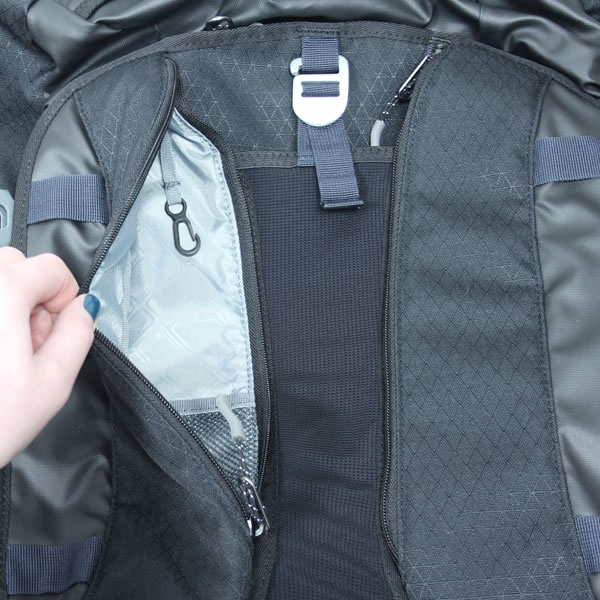 Eagle Creek have also included top, side and base grab handles, which make the backpack easy to load on and off transport and airport conveyors.
While many travel backpacks come with a zippered cover to protect their back system, the Global Companion simply includes a 2in1 Rainfly cover, which protects the back system during flights, while preventing scuffs and other damage to your bag. It also acts as a rain cover, so you can keep the contents of your backpack dry during tropical downpours.
Summary
Due to its suitcase-style design, the Global Companion is a great option for travellers who like the packing style of a suitcase, but want a more practical piece of luggage for adventure travel. It's also a great choice for the security conscious, with lockable zips on all entry points and some of its smaller organiser pockets.
The choice of a unisex or female fit make this backpack accessible to most backpackers and the back system is also extremely user friendly, making it easy to select your required back length.
While this is a fairly expensive travel backpack, it's to be expected from a premium brand like Eagle Creek. Not only does the Global Companion have a high quality build, but it's packed with clever features and options for organisation of your gear. The inclusion of their Rainfly transit and rain cover helps to justify its higher price tag, but the lack of daypack may well make some travellers consider a different piece of luggage for their trip.
Another added bonus of the Global Companion is that it's covered by the Eagle Creek No Matter What Warranty, which covers the lifetime warranty promise as well as repair or replacement due to product failure, no matter what the cause.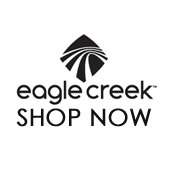 *Prices correct at time of publishing & may be subject to change.