A counterpart to their best-selling Farpoint series, the Fairview benefits from the same great features but with a female specific back system. I was lucky enough to test the Osprey Fairview 55 on a recent trip to Southeast Asia, so I'll be discussing the key features, practicality and comfort of the pack in this review.
First Impressions
The Fairview is basically a women's version of the Farpoint, the key difference here is the back system, which has a female specific fit with an ergonomically shaped hip belt, harness and back panel. The shoulder yoke is also narrower than on the Farpoint, another female specific feature that adds to the Fairview's overall comfort. Then there's the choice of two colours, Misty Grey or Rainforest Green, where the Farpoint is available in Volcanic Grey or Jasper Red.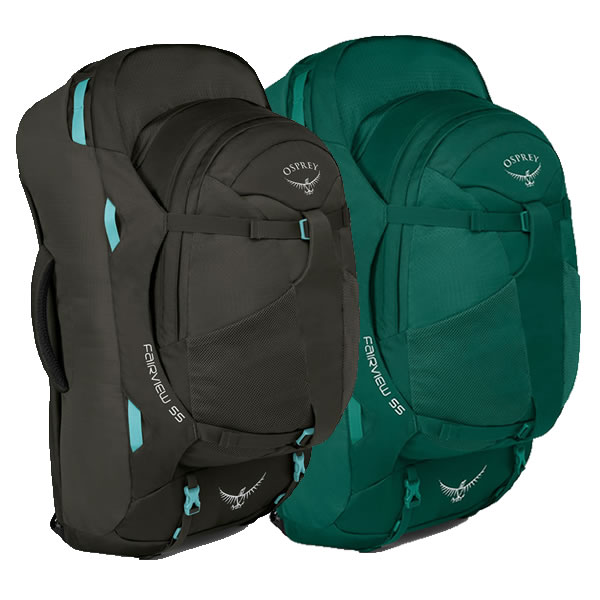 If you've been trying to choose a backpack for travelling, you've probably come across the Osprey Farpoint on forums and travel blogs. The Farpoint is one of the most popular travel backpacks out there, so the addition of a female version was a great move by Osprey. I'm surprised this hasn't happened sooner, given their male and female specific hiking and backpacking packs, but it was worth the wait! The Fairview is available in three sizes – 40L, 55L or 70L to suit different trip durations.
Osprey have constructed the Fairview from the same durable 210D nylon mini hex diamond ripstop fabric as the Farpoint and it also benefits from a lightweight internal frame. The Fairview 55 weighs 1.75kg (including the daypack), so is still considerably light for a backpack of this size.
On a purely aesthetic note, I was impressed with the Misty Grey and Rainforest Green colour ways, as they aren't overly 'girly' and are great for female travellers who want some colour, without having to opt for pink or purple. I was using the Fairview 55 in Misty Grey during my trip and found it to have a slight khaki green tint in some lights, but I actually quite liked this and thought it worked well with the contrasting light blue buckles and external lash points.
Price
As you'd expect from any travel pack from a premium brand, the Fairview sits at the higher end of the pricing spectrum, with an RRP of £150.00* for the Fairview 55. The Fairview 40 has an RRP of £120.00* and the Fairview 70 has an RRP of £160.00*. To put things into perspective, the Osprey Fairview is a little lower in price compared to travel packs from Deuter, Eagle Creek and Lowe Alpine, so is a good entry level to our more expensive range of travel backpacks.
Travellers are generally on a tight budget, so may overlook the Fairview and opt for one of our mid-range backpacks. If you're going on a longer backpacking trip or have several trips in the pipeline over the next few years, spending a little more on your backpack is possibly worth the additional cost. The backpack also includes a detachable daypack, so that's one more cost you don't have to consider if you buy the Fairview.
Construction
The Fairview comes with a lightweight peripheral frame and is constructed from 210D nylon mini hex diamond ripstop/600D packcloth fabric. The diamond ripstop construction is clear to see on the side panels and front of the backpack, feeling durable and unlikely to let you down when packed to capacity. I filled the bag with around 8kg of gear and didn't once feel like the fabric or zips would fail. The zips are also well made, with chunky zip pullers for easy opening and closure of the bag.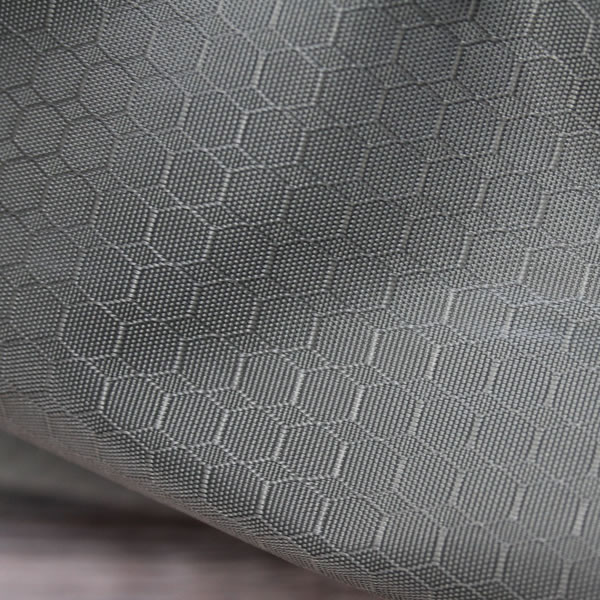 Comfort Features
The back system is the main difference between the Fairview and Farpoint, with a shorter torso length and ergonomically shaped hip belt, shoulder harness and back panel. As with most female specific backpacks, the shoulder Yoke is narrower to provide a more comfortable fit for women. The hip belt, shoulder straps and back panel are all padded with Osprey's die-cut spacer mesh, with cut out sections to help to increase air flow and aid ventilation. The padded foam is also covered with two layers of mesh material, which contribute to the backpack's overall comfort and breathability.
The Fairview is designed for women and comes in one size – WS/WM, which is suitable for a torso length of 38-53cm. I have a fairly long torso at 49cm, but the Fairview fit comfortably as my measurements were within WS/WM sizing. To measure your torso length, locate your C7 vertebrae (the knobbly bump at the base of your neck), then locate the iliac crest (the very top of your hip bones). Once you have located your C7 vertebrae and iliac crest measure the length between the two to get your torso length. The Fairview should be suitable for most women, but the Farpoint offers S/M (38-51cm) and M/L options (46-60cm) if the sizing of the Fairview isn't quite right for you.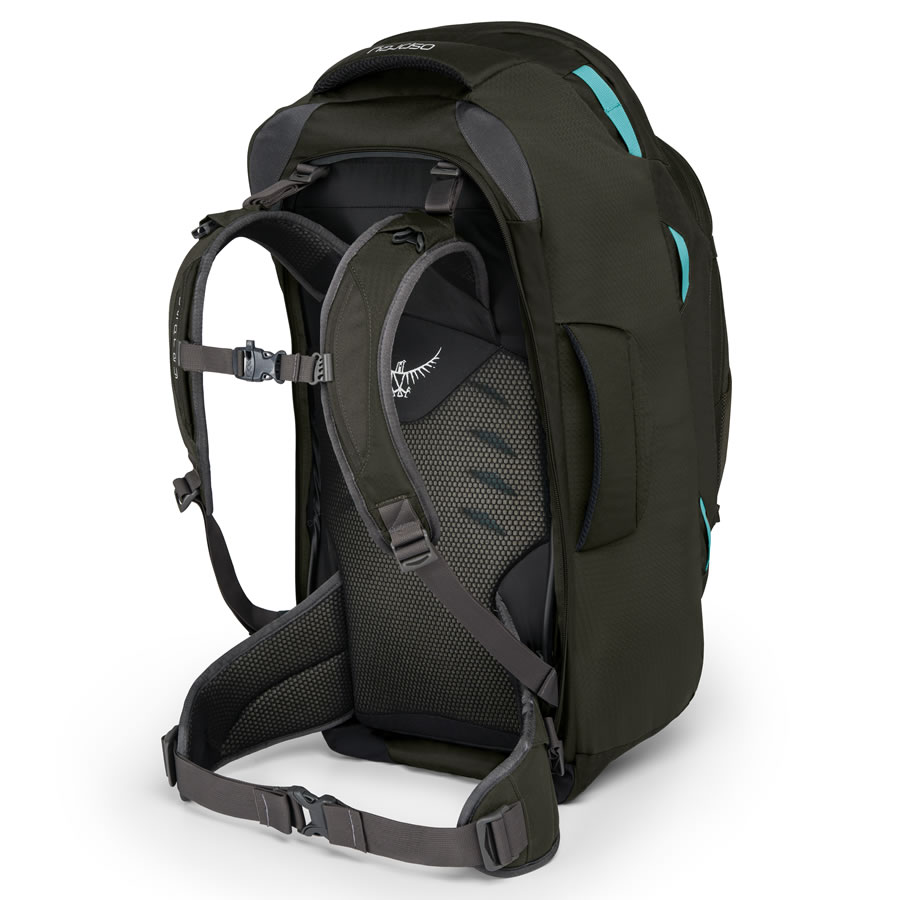 Of course one of the key features of any good quality backpack is the hip belt. If your backpack's hip belt isn't strong and supportive enough to take the main weight of the bag's load, it's essentially useless. Luckily this isn't the case with the Fairview's hip belt, which offers plenty of padding and flexibility whilst being fairly rigid and strong enough to support heavier loads. As mentioned earlier in this review, my bag weighed around 8kg when packed, but would easily take considerably more weight.
I didn't feel any discomfort during longer periods of wear and my back kept relatively cool, even in 30°C+ temperatures. Like the Farpoint, the Osprey Fairview is a great backpack for those long walks to your next hostel or when you have no choice but to carry your luggage around with you. It can even cope with more adventurous activities due to its durable and comfortable design.
Backpack Features
As with many travel backpacks on the market, the Fairview comes with panel zip access to the main compartment, which allows you to pack it like a suitcase. Although most travel backpacks benefit from a zip panel opening, the Fairview's front panel zip extends right down to the base of the pack, which allows you to open it even further for easier access to your gear. Zips on both the main backpack and detachable daypack come with lockable zips and easy grab zip pullers for easy opening and closure.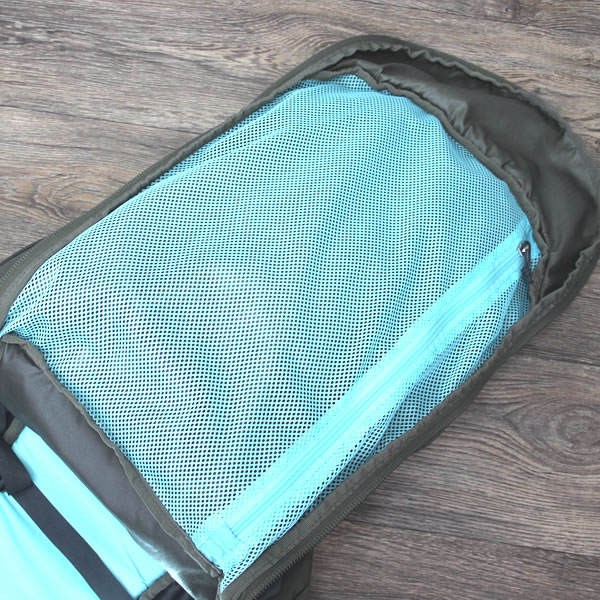 The main compartment includes a large mesh zippered pocket (approx. 46 x 29cm), which I used to store dirty laundry, as well as a pair of internal compression straps for compressing its contents and keeping everything in place.
Osprey have included a protective zip panel to cover the backpack harness during flights, and as both the Fairview 55 and 70 are too big to use as carry-on luggage I would strongly recommend using the cover when you check your bag in at the airport to prevent damage to the straps. The smaller Fairview 40 also comes with a cover for its straps, but I probably wouldn't need to use this all that often as I wouldn't need to check it in.
As travellers tend to want a rain cover for their backpack, it would be great if one was included as standard, but unfortunately you will need to buy one separately…If you want an Osprey branded rain cover, you're looking at spending a further £25-£30*, but there are cheaper options available if you don't care about your gear matching.
The Fairview also comes with padded top and side grab handles, which made the bag nice and easy to grab from the baggage claim carousel. I also found it easy to load the bag into taxis and onto boats using the handles and used them to carry the bag for short periods of time. I'd love to see a detachable shoulder strap on the Fairview 55 and 70, but this is only available on the smaller 40 litre size.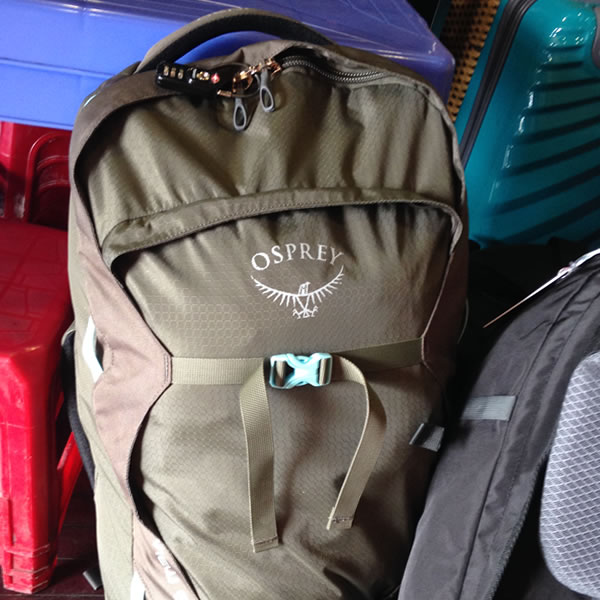 The main bag doesn't include any external accessory pockets, but does feature several external lash points for attaching additional items and a set of removable sleeping mat straps. I managed to fit all my luggage inside and didn't have to utilise the external attachment points, but I can see how these would be useful for travellers who have more outdoor gear and camping equipment to transport…Or for those with a tendency to over-pack!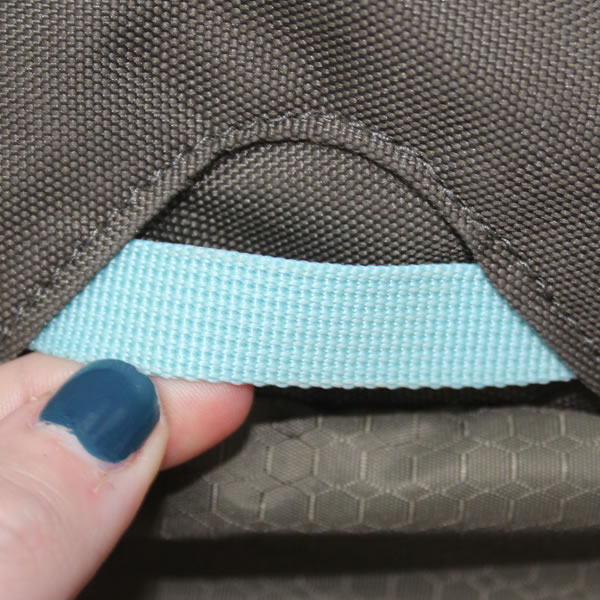 Daypack Features
Dimensions – 44 x 29 x 23cm
Weight – 0.51kg
Capacity – 13 litres
As well as its main bag, the Fairview comes with a removable 13 litre daypack, which served as my carry-on luggage throughout my trip. The 13 litre capacity is pretty generous and you get a padded 15.4″ compatible laptop sleeve (34 x 28cm) and padded zippered pocket (24 x 28cm) inside the daysack's main compartment. I didn't actually travel with a laptop, so just used the internal pockets to separate and organise my tickets, passport, documents and other items (and by other items I mean snacks), then there was plenty of space to pack some emergency clothes in case my main bag got lost.
I made good use of the front dual mesh pockets, using one of them to store my water bottle and keep my hands free when I was out exploring. I also used the external 'scratch-free' electronics pocket to store my sunglasses and phone, and there was still space for more items inside.
Security-wise, the daypack comes with a kangaroo style attachment, with clips for attaching it to the front of the main bag's harness. This is a good feature for travelling in areas with a high crime rate, or when you need quick and easy access to your wallet or other items without having to take your bag off your back. I'll admit I didn't actually use the kangaroo attachment, but lots of travellers do! Zips on the main compartment are lockable with interlocking zip housings, again a useful feature if you're travelling in pick-pocket hot spots or countries with a high crime rate. If you don't want to use the daypack on its own, you can leave it zipped to the main bag for additional packing space.
I used the daypack fairly often, especially during more adventurous activities, including a Mount Batur sunrise trek in Bali. The back panel and shoulder straps mimic the main backpack harness with a ventilated die-cut spacer mesh construction, but you don't get a hip belt due to its capacity (not that you need one). The shoulder straps are also shaped, so they don't dig into your chest.
Summary
As a woman who loves travelling, a women's version of the Farpoint obviously sparked my interest, so I jumped at the chance to review the Osprey Fairview. Like the Farpoint, this backpack has a solid construction while remaining lightweight and provides plenty of travel related features, as well as a comfortable and supportive female fit back system.
The new colours also add to its appeal and the choice of three different sizes make the Fairview accessible to most travellers, offering a 40 litre size for shorter trips and carry-on only enthusiasts, and the 55 and 70 litre versions for longer backpacking adventures. The Fairview 55 is just over the carry-on size, which is slightly frustrating, but easily remedied by choosing the Fairview 40 instead (only 2 litres smaller than the Fairview 55's main bag) and buying a separate daypack or pack away bag for day to day use.
I used the Fairview 55 with a set of 3 packing cubes and still had plenty of space at the top of the bag to slot in my wash bag and some other accessories. Osprey also have their own range of packing cubes, so if you like your travel gear to match, these will complement their backpacks nicely.
All in all a good quality travel backpack and a great option for general backpacking and adventure travel.
*Prices correct at time of publishing and may be subject to change.